Village modello and Battle of Earl's Bridge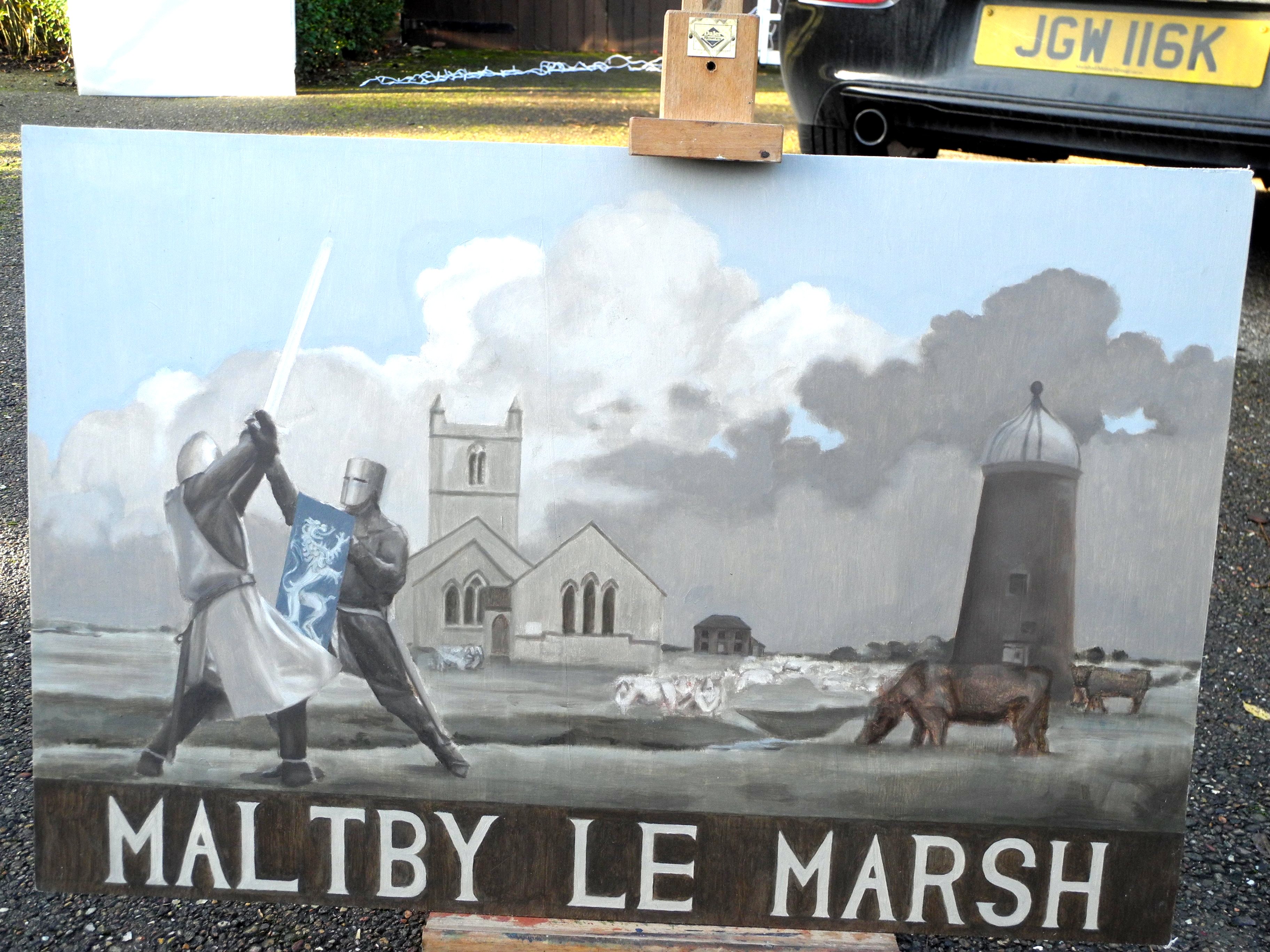 The Modello was painted by Scott Norwood Witts. It is an oil sketch giving an idea of colour and tonality. The sketch is representative of the character, the geographical nature, and mood of the village. The design maximises, to the fullest potential, the marsh aspect of the village, flat and low lying with enormous skies. The design illustrates the agricultural use of the land, Lincoln Red cattle, Lincoln long wool sheep and the industrial heritage, represented by the now sail less Mill. The history of the village, as a significant Christian settlement, is shown in the forms of the church, Wesleyan chapel and Baptist chapel.

The legend of the knight's duel at Earls bridge is in the immediate foreground. They are clothed in armour of the time. The duel took place on 26 December 1329. The 2 combatants were Robert De Montalt, age 59 and Robert De Mablethorpe, age 56. Their families had feuded for 96 years. This was over a quarrel as to who would present the next Rectors at St Mary's and St Peters parish churches. Robert De Mablethorpe was a lawyer and Chief Justice of the Kings Bench, when the 2 met at Earls bridge. De Montalt accused De Mablethorpe of cowardice in battle and told him to get out of the way. He resented the unjust rumour and refused to move, De Montalt dare not withdraw, as if he did his five-week bride would think him afraid. De Montalt was at the Maltby side of the bridge. They both knew one of them would not be crossing the bridge alive. Evenly matched and experienced in weaponry, they fought for hours. Eventually sword strokes took their toll and the two Knights fell dead together. Robert De Montalt was buried in All Saints church Maltby. The effigy in the church is of a cross-legged Knight wearing chain mail and surcoat (blouse) and knee cops. At his head are 2 angels and 2 pillows. At his feet are a lion and wyvern engaged in combat. The shield is of the large bowed heater shape of the time, being seventeen and a half inches wide by twenty five to twenty seven inches long. His sword hangs at an angle and was about three foot nine inches long. A pair of allettes of little wings are at the side of the shoulders. Robert De Mablethorpe was buried in St Mary's church Mablethorpe. There is a poem about the duel being the 'Legend of Earls Bridge'.